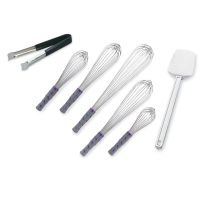 Kitchen Utensils for Restaurants Stainless steel dishers, ladles, spoons and spoodles are part of every kitchen, and come in many sizes and a rainbow of colors. Spoons and
Spoodles
are available in solid, perforated and
slotted
forms. You'll also find kitchen utensils essential for baking, like a variety stainless steel whips and tongs, plastic and rubber heat-resistant spatulas and scrapers. Wooden and insulated Kool-Touch® handle versions make these cooking utensils safer to use, too.
More
Cooking Utensils & Kitchen Utensils
If you're dishing it out you're going to need the right tools for the job. Check out of collection of dishers, ladles available in a variety of sizes, portion control spoons, spades, wooden spoons and more cooking utensils and kitchen utensils.
Order Your Mixing Bowls and Cookware Sets
Order your cooking utensils and kitchen utensils today, and have them arrive within a few days. Ordering online is easy and fast, with more items shipped out in one to two business days. If you have any questions about our cooking and kitchen utensils, or would prefer to place your restaurant supplies order by phone, please contact Customer Service.
Save 10% When You Buy 3+ Kitchen Utensils – Mix & Match!