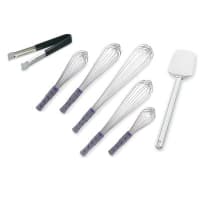 Kitchen Utensils for Restaurants Stainless steel dishers, ladles, spoons and spoodles are part of every kitchen, and come in many sizes and a rainbow of colors. Spoons and
Spoodles
are available in solid, perforated and
slotted
forms. You'll also find kitchen utensils essential for baking, like a variety stainless steel whips and tongs, plastic and rubber heat-resistant spatulas and scrapers. Wooden and insulated Kool-Touch® handle versions make these cooking utensils safer to use, too.
More
Cooking Utensils & Kitchen Utensils
If you're dishing it out you're going to need the right tools for the job. Check out of collection of dishers, ladles available in a variety of sizes, portion control spoons, spades, wooden spoons and more cooking utensils and kitchen utensils.
Order Your Mixing Bowls and Cookware Sets
Order your cooking utensils and kitchen utensils today, and have them arrive within a few days. Ordering online is easy and fast, with more items shipped out in one to two business days. If you have any questions about our cooking and kitchen utensils, or would prefer to place your restaurant supplies order by phone, please contact Customer Service.
Save 10% When You Buy 3+ Kitchen Utensils – Mix & Match!
Restaurant Kitchen Utensils Quick Reference
A commercial kitchen is only as good as its selection of cooking utensils. We supply high-quality kitchen utensils in every shape, size, and color to meet your prep and serving needs. Our quick guide to kitchen utensils will help you suss out the items missing from your commercial kitchen. Additionally, our commercial utensil quick guide will introduce you to items you didn't even know you needed, but soon won't be able to live without.
Explore our wide selection of slotted, perforated, and solid serving and cooking spoons. We carry task-specific spoons such as basting spoons, portion control spoons, and heat-resistant options. Choose from materials such as stainless steel, wood, melamine, nylon, and bamboo.
Dish out some ice cream, cookie dough, mashed potatoes, rice, steamed vegetables, and much more with our NSF-approved, stainless-steel dishers. Our dishers have easy-to-identify, color-coded handles and are available in many sizes for accurate portion control.
We offer slotted, perforated, and solid turners as well as a variety of handle finishes, from polycarbonate to classic wood. Our high-heat options and textured, easy-grip handles are must-haves for any commercial kitchen.
For your convenience, we carry heavy-duty tongs that are strong enough to rip apart frozen food; giant tweezer tongs for ultimate precision; tender-touch pastry tongs; tongs perfect for grilling and frying; serving tongs for buffets and salad bars and more. Choose from a diverse selection of materials including bamboo, 18/0 and 18/10 stainless steel, silicone, and polycarbonate.
Our range of NSF-certified, dishwasher safe spatulas are made from high-quality materials such as silicone and stainless steel. We carry everything from durable spatulas that can handle heavy bakery usage to spatulas that can gently flip the most delicate of dishes, such as crepes and eggs over easy.
Whisk away our assortment of piano whips, French whips, spiral whips and more. Depending on your dish, we offer fine wired whips when working with thinner ingredients such as delicate and sweet meringue, or thick wires for heavier ingredients or for sauces and dressings that require emulsification.
Take control of your ingredients with our selection of commercial food mills, colanders, dredges, funnels and strainers. This category of kitchen utensils aid in a variety of applications chefs perform in their commercial kitchens every day, from draining liquid to preparing purees, to smoothly transferring ingredients from vessel to vessel.
Find the perfect ladle for sauce, soup, condiments, drinks, and big batches of chili. We carry ladles ranging from ½ oz to 8 oz capacity with a choice of handle lengths and materials. Our salad dressing ladles have dressing names imprinted on the handle and are made of materials such as aluminum, polycarbonate, and stainless steel.
Choose from high-heat scrapers, carbon steel beveled scrapers, and more. These commercial utensils work perfectly to manipulate dough, brush away crumbs, or mix a hot dish. Our paddle scrapers are long enough to work with the largest and deepest commercial pots. Select from tried and true manufactures including Carlisle Foodservice, Matfer Bourgeat, and Rubbermaid Commercial.

Need help picking models? We're trusted experts since 1902 »