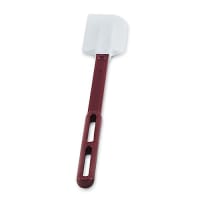 Spatulas
Bake a cake with our assortment of spatulas for your commercial kitchen.
We carry everything from durable spatulas that can handle heavy bakery usage to spatulas that can gently flip the most delicate of dishes, such as crepes and eggs over easy.
Our non-porous exoglass spatulas are perfect for sanitary-savvy kitchens because they are easy to clean and sterilize. They will even leave a pristine surface on nonstick cookware.
For commercial kitchens that like it hot, we have heat resistant spatulas that can handle up to 500F/260C.
One kitchen tool that chefs swear by is the offset spatula. This versatile little tool is ideal for baking and applying frosting and icing, spreading perfect layers, and smoothing batter, all at an excellent price point.
Explore our NSF-certified, dishwasher safe spatulas in a variety of materials such as silicone and stainless steel with wood handles, cool-touch handles, and easy-grip handles.
Save 10% When You Buy 3+ Kitchen Utensils – Mix & Match!
Product List
Item #: 100094

Model #: 52026

By: Vollrath

Sold As: Each

Item #: 100095

Model #: 52023

By: Vollrath

Sold As: Each

Item #: 100427

Model #: 52010

By: Vollrath

Sold As: Each

Item #: 113672

Model #: 1314

By: August Thomsen

Sold As: Each

Item #: 113673

Model #: 1310

By: August Thomsen

Sold As: Each

Item #: 113688

Model #: 1376

By: August Thomsen

Sold As: Each

Item #: 123091

Model #: 1305

By: August Thomsen

Sold As: Each

Item #: 205622

Model #: 52013

By: Vollrath

Sold As: Each

Item #: 205624

Model #: 52009

By: Vollrath

Sold As: Each

Item #: 205633

Model #: 1386

By: August Thomsen

Sold As: Each

Item #: 6022501

Model #: 703 BLACK

By: Hutzler

Sold As: Each

Item #: 124100

Model #: FG1901000000

By: Newell Brands Distribution LLC

Sold As: Each

Item #: 6109898

Model #: M830

By: J.B. Prince

Sold As: Each

Item #: 6109905

Model #: M998

By: J.B. Prince

Sold As: Each

Item #: 6109903

Model #: B118

By: J.B. Prince

Sold As: Each