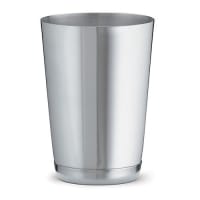 Cocktail Shakers and Jiggers
Mix the perfect specialty drink or cocktail with a stainless steel cocktail shaker. Choose from a wide range of sizes, shapes and finishes to compliment your bar decor. Using a measured jigger when mixing bar drinks helps keep your liquor costs in line and your cocktail portions consistent between bartenders. Happy Hour will be an event when you shop our wide variety of Bar Supplies.
More
Cocktail Shakers, Jiggers and Bar Storage Containers
With all the choices we offer of cocktail shakers, jiggers and storage containers, your bar will always be stocked and ready to make all the wonderful and fun drinks for all the customers at your bar or restaurants. Shop Wasserstrom for all your bar supplies, including cork screws, strainers and funnels and speed racks. Make sure your bar has all the tools it needs with our collection affordable bar supplies.
Order Cocktail Shakers, Jiggers and Bar Storage Containers Today
Order cocktail shakers, jiggers, and storage containers for your bar today, and have them arrive right at your door. Ordering online is easy and fast, with more items shipped out in one to two business days. If you have any questions about our speed racks, glass rimmers and other bar supplies, or would prefer to place your bar supplies order by phone, please contact Customer Service.