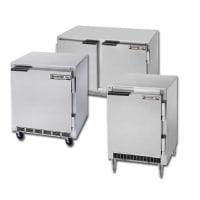 2-Door Undercounter Freezers, and More Undercounter Freezers!
Stainless steel undercounter freezers, with wheels or without wheels, have a variety of options for you to choose from. Compact upright freezers and sliding glass top chest freezers, offer space saving solutions for your frozen items right under the counter. Find deep large capacity undercounter freezers and drawered undercounter freezers for your home, office, or foodservice business, from Wasserstrom! Excellent brands such as True, Randell and Continental.
For additional Large Equipment information or specifications, please contact our Customer Service department at 1-877-425-8906.
More