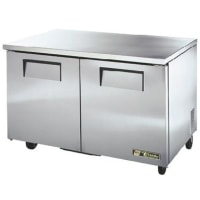 Deep Worktop Freezers, 2 Section Worktop Freezers, and More Worktop Freezers!
Heavy-duty worktop freezers provide superb time saving during the transition between storage and prep. Easily accessible pull-out drawers and doors enclose frozen foods in a consistent forced air refrigeration unit. Find the worktop freezer that is perfect for your space where you need to prep and store foods quickly in the same space! We carry the brands of True, Randell and Continental.
For additional Large Equipment information or specifications, please contact our Customer Service department at 1-877-425-8906.
More