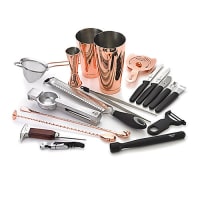 Barfly Mixology Gear Barfly® Mixology Gear by Mercer is for the professional with an unwavering commitment to the art of the cocktail. Their barware essentials and accessories are designed to deliver optimal appearance, temperature, consistency and proportion in every glass–with masterful results. We invite you to browse the full line of Mixology gear to see how Mercer raises the bar.
More
Barfly Mixology Jiggers and Strainers
Wasserstrom has a great selection of all the jiggers, stariners, muddlers, and all the other essentials you need to have your bar run efficiently. BarFly by Mercer has everything you need to shake, strain, measure, and stir the perfect drink. While you are here, be sure to check out our great selection of highball glasses and margarita glasses that are essential for any bar or restaurant.
Order Your Decanters and Carafes
Ordering online is fast and easy, with more items shipped out in one to two business days. If you have any questions about our selection of decanters or carafes, or would prefer to place your restaurant supplies order by phone, please contact Customer Service.