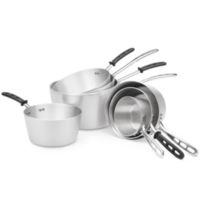 Cookware for Commercial Kitchens
Wasserstrom makes finding the right cookware easy. There are a lot of options to consider when shopping commercial cookware. We carry everything from the centuries-old cast iron to pans engineered to support induction cooking. Shop a great selection of stainless steel, carbon steel, and tri-ply layered, steel cookware.
Whether you're replacing your aluminum pots or upgrading to the superior thermal conductivity of copper cookware, we have everything needed to outfit and upgrade a commercial kitchen.