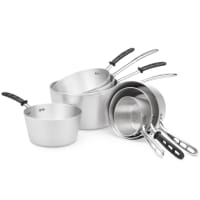 Cookware for Commercial Kitchens
Wasserstrom makes finding the right cookware easy. There are a lot of options to consider when shopping commercial cookware. We carry everything from the centuries-old cast iron to pans engineered to support induction cooking. Shop a great selection of stainless steel, carbon steel, and tri-ply layered, steel cookware.
Whether you're replacing your aluminum pots or upgrading to the superior thermal conductivity of copper cookware, we have everything needed to outfit and upgrade a commercial kitchen.
Restaurant Cookware Quick Reference
Explore By Metal Type
This extremely durable metal is lighter than cast iron, distributes heat evenly, and heats/cools down quicker than cast iron. Carbon steel cookware works on stove tops, in ovens, under broilers, and even on grills or open flames. Its ability to handle high heat and easy-to-clean surface makes carbon steel cookware a versatile tool any chef will enjoy.
Our high-quality stainless-steel cookware offers endless versatility for your commercial kitchen. Stainless steel offers superior temperatures control and is nonreactive when cooking acidic foods such as vinegar and tomato-based sauces.
Stainless-steel cookware metal excels at searing, simmering, roasting, stir frying, caramelizing, uniform browning, and creating sauces. Don't forget to preheat!
Cast iron cookware can handle very high temperatures and works beautifully on the stove top, in the oven, on a grill, or over an open flame. Cast iron takes longer to heat up, however it maintains surface temperatures even when searing thick slices of meat.
When properly seasoned and maintained, cast iron also boasts a natural non-stick surface. This metal is ideal for deep frying, roasting, baking, and an array of other techniques.
Tri-ply commercial cookware is stainless steel elevated by an aluminum core, combining the cooking benefits of both metals. The aluminum core improves heat distribution for an even cook every time. Use it on your commercial stove top, in the oven, or under the broiler.
Known for its shiny glow and beautiful color, copper cookware is a must-have for every chic commercial kitchen. Aside from its timeless aesthetic appeal, copper cookware heats evenly and quickly.
Restaurants and bakeries leverage the thermal sensitivity of copper to cook sugars and chocolates where holding precise temperatures are critical. Copper is an essential piece of cookware for commercial bakeries.
Explore By Cookware Type
Explore our full range of commercial fry pans: Our selection spans from 7" pans to 15" pans in metals such as stainless steel, aluminum, carbon steel, cast iron, and copper.
Additionally, our large selection of non-stick fry pans make food orders in your commercial kitchen orders a breeze to prepare.
For foodservice preparation that includes liquid, such as poached eggs or simmering vegetables, or to prepare perfect marinara, explore our selections of sauce and sauté pans.
We offer saucepans of up to 10 quarts to solve your large batch commercial kitchen needs.
Our selection of commercial baking pans and accessories has everything your bakery or restaurant needs to thrive. Discover our veritable wonderland of high-quality commercial bread pans, cake pans, Bundt pans, flexipans, muffin pans, hamburger and hotdog bun pans, pie pans, springform pans and more!
Our high-quality stainless-steel and aluminum stock pots prepare perfect batches of soup, broth, chili, vegetables. Delve into our array of stock and sauce pots available in multiple sizes to fit your large-batch, high-volume foodservice needs.
Commercial-grade Dutch ovens are not only beautiful to look at, but a versatile tool for any restaurant. Chefs often use commercial Dutch ovens to prepare casseroles, fried chicken, braised short ribs, simmering chili, baked bread, and any recipe that benefits from steady, even heating.
Our selection of sheet pans and baking sheets are made from durable, high-quality aluminum that delivers long lasting performance, and bakes food evenly.
The commercial sheet pans we offer come in 1/8, 1/4, 2/3, 1/2, and full sized for your varying needs. Choose from non-stick, natural finish, flat, rimmed or rimless, and perforated sheet pans for your commercial kitchen.
Whether your pizza is a classic NY slice or a gooey Chicago deep dish, we carry a vast selection of commercial pizza pans for your pizzeria, restaurant, or foodservice operation.
Choose from round, square, tapered, heavyweight, nesting, anodized, perforated, coupe, wide-rimmed pizza pans, and more! Our sizes range from 22" pans for sharable pizzas, down to a 4" mini pizza size.
Woks cook up sizzling stir fries, tangy pad thai, and hundreds of other dishes at an incredible price point.
Explore our traditional hand-hammered, cold-forged steel woks, carbon steel woks, and flat-bottom woks that are designed to work more efficiently on restaurant ranges.
Brazier pans are the love child of Dutch ovens and sauté pans. They are a versatile tool for any commercial kitchen that braises, simmers, roasts, and sears. Braziers are also excellent when used in conjunction with steamers, to create seafood dishes and pasta triumphs.
Our assortment of these beloved pans includes carbon steel construction, which is the preferred metal of many paella enthusiasts, as well as stainless steel, and aluminum. Paella pans are larger than your average frying pan and prepare rice perfectly because of their low, wide shape.
Commercial kitchens benefit from paella pans because they have creative uses well past their namesake, often doubling as a griddle, skillet, or roasting pan.

Need help picking models? We're trusted experts since 1902 »