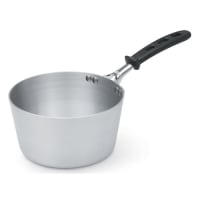 Sauce & Saute Pans
An impeccably prepared sauce is often the pièce de résistance of a meal. Explore our selection of high-performance commercial sauce and sauté pans to create your perfect Velouté or browned butter grenobloise.
Create fresh marinara sauce in one of our nonreactive, stainless-steel commercial saucepans or lined copper sauté pans. Our nonreactive pans will ensure your acidic ingredients retain their clean taste and bright color.
Beyond sauce, cook up fluffy grains, sautéed vegetables, poached eggs, or a coconut curry dish. We offer sauce and sauté pans of up to 10 quarts for your large-batch commercial kitchen needs.