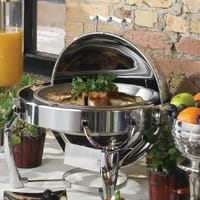 Catering Supplies
Find an extensive array of catering supplies for your upcoming catering service. Create beautiful displays with tiered display units, unique serving bowls, serving trays, ice sculpture displays and many more catering supplies and catering equipment. For a fun outdoor catered event shop our collection of disposable catering supplies. We carry Cambro, Vollrath and Bunn items. At Wasserstrom, get everything you need to make your next catering service an affair to remember!
More
Catering Supplies
Whether you're catering a formal event for 500 people or an informal event for 30 people, we have the catering supplies you'll need. Get fountains like chocolate fountains and champagne fountains to create beautiful functional displays along with other catering display items like mirror trays, display cubes, display stands more catering displayware. Also find disposable catering items like plastic plates and disposable serving bowls.
Order Your Buffet Tables and Table Lamps
Order your catering display units and catering disposables today, and have them arrive within a few days. Ordering online is easy and fast, with more items shipped out in one to two business days. If you have any questions about our buffet stations and other catering supplies, or would prefer to place your restaurant supplies order by phone, please contact Customer Service.