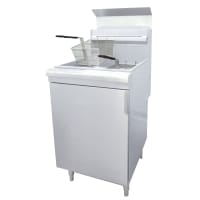 Commercial Deep Fryers and Countertop Fryers
Whether you are shopping for a commercial floor fryer to cook fried chicken or frying small batch appetizers in a countertop fryer, Wasserstrom has everything you need to get started or expand your menu.
Restaurant floor fryers are great for whole chicken pieces, fish, potato fries, and just about anything else. Need a fryer for smaller appetizers such as chicken tenders, clams, cheese sticks or pickles? We have a countertop fryer that will fit your needs and exceed your expectations. And don't forget to pick up extra fry baskets.
Restaurant Fryer Quick Reference
Commercial floor fryers are great for high-output and cooking large amounts of French fries, onion rings and whole chicken pieces.
Countertop fryers can provide cooking versatility when working in a kitchen with limited space. Although countertop fryers can do most of what their floor standing cousins can, they are often better suited for appetizers and side dishes.
Restaurant fryer baskets are in and out of hot oil all day long. When a fryer basket needs cleaned and gets caught up at your warewashing station, you'll always want to have extra baskets handy!
Investing in a commercial oil and shortening filter can save you time and money. Filtering your oil at least once per day will extend the life of your oil and reduce how frequently it will need changed.
Browse Wasserstrom's selection of fryer accessories for skimmers, cleaning brushes and other maintenance supplies. Be sure to pick up an extra fry scoop so you have extras on hand.

Need help picking models? We're trusted experts since 1902 »