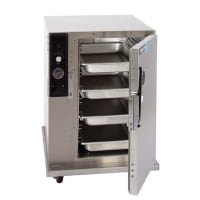 Holding Cabinets and Proofers
Holding cabinets are an essential piece of equipment for any foodservice venue that needs to temporarily store cooked food and ingredients at safe temperatures. Whether your venue is preparing to deliver hot meals or just needs to keep cooked ingredients at safe temperatures during food prep, we have a holding cabinet for every need.
For your convenience, we offer low-heat holding cabinets that double as dough proofers. And to accommodate full sized pans, we have holding cabinets designed with French doors. Undercounter holding cabinets are great where space is limited. Holding cabinets from trusted brands such as Alto-Sham keep food fresh, maintain visual appeal, and are essential when prepping and cooking larger amounts of food and baked goods.