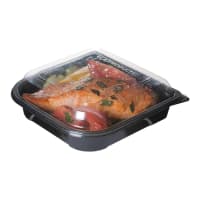 Takeout and Delivery
Grow or expand your food delivery and takeout services with a wide assortment of delivery supplies from Wasserstrom. Whether you make and deliver pizza, Asian cuisine or hamburgers and fries – we carry everything needed for every venue looking to expand in a growing foodservice delivery market.
As restaurants and ghost kitchens ramp up food delivery, it's critical to maintain a steady supply of disposable food containers, carry out bags and napkins. For those venues specializing in hot food delivery, we also carry insulated food delivery bags, food carriers and pizza boxes.
And don't forget to stock up on Disposable cups for hot and cold beverages, disposable utensils and paper cup holders to make transport of drinks safer and more convenient. At Wasserstrom, you can count on our 100 years of experience and rock-solid supply chain to keep your takeout services going strong.