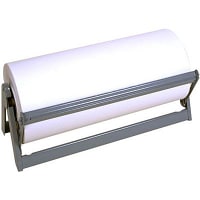 Paper, Foil & Film Dispensers
Shop for freestanding paper cutters, foodservice film dispensers and film cutters at Wasserstrom.com. We carry quality products from Bulman and San Jamar. Get the right dispenser for your film products. Order the correct cutter for the size paper and film you are using.
More
Film Dispensers and Paper Cutters
Buy paper cutter and film dispensers online at Wasserstrom.com for your restaurant or flower shop. Find film wrap cutters, butcher paper cutters and more dispensing cutters. Also find replacement blades for your film cutters and paper cutters.
Order Film Cutters and Foil Dispensers
Order foil dispensers and cutters and more film dispensers, and have your film cutters delivered to your door within a few days. Ordering online is fast and easy, with more items shipped out in one to two business days. If you have any questions about our collection of film dispensers and film cutters, or would prefer to place your restaurant supplies order by phone, please contact Customer Service.