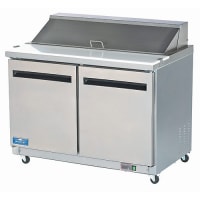 Commercial Refrigerator, Freezer & Ice Machine Options for Restaurants & Foodservice
Commercial refrigeration is the backbone of any restaurant or foodservice operation. Whether it's a commercial reach in refrigerator or freezer, a prep table, a glass door merchandiser, or an ice machine, every restaurant needs a way to keep things cool. We offer high quality and best value across our entire lines of commercial restaurant refrigeration.
Restaurant refrigerators, freezers and ice machines need to be able to stand up to heavy use in challenging environments. Our lines of commercial, heavy duty refrigeration options have been specially curated to meet the needs of all types of restaurant and foodservice operations.
Commercial Refrigeration Quick Guide
Solid Door Commercial Reach-In Refrigerators & Freezers
These are the workhorses of commercial refrigeration. Choose between top-mount or bottom-mount compressor placement. For a more information, see our Commercial Reach-In Refrigerator & Freezer Buying Guide.
Commercial Ice Machines
Choosing the right commercial ice machine for your foodservice operation is critical. Use our online calculator to determine how much ice you need for your restaurant. Whether you need an ice bin, an ice cube maker, a flaked ice machine, an ice dispenser or any accessories such as ice scoops, ice shavers or ice crushers, we have you covered.
Commercial Prep Tables
Prep tables come in several sizes and varieties. A sandwich prep table or a salad prep table has a chilled area to hold ingredients and a work space for assembly. A pizza prep table is very similar but comes with a larger work surface or cutting board space. Mega top prep tables have larger spaces for chilled ingredients. Restaurant prep tables are used in a variety of foodservice businesses.
Commercial Merchandisers
Refrigerated merchandisers have glass doors that allow product to be seen without opening the doors. These are often used for grab-and-go situations. Glass door merchandisers are configured in two ways: Slide Door Merchandisers and Swing Door Merchandisers. The choice is yours!
Walk-In Refrigerators & Freezers
Walk-in refrigerators (sometimes called Walk-in Coolers) and Walk-in freezers are large units that allow full access to the interior space. Different sizes and configurations are available to suit your specific needs.

Need help picking models? We're trusted experts since 1902 ►