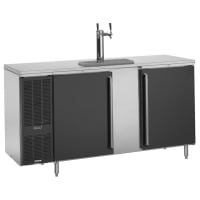 Direct Draw Beer Dispensers, Keg Dispensers, and More Beer Dispensers!
Serve deliciously frothy and frosty beers to your guests with the help of Wasserstrom's collection of direct draw beer dispensers and keg beer dispensers. Choose from brands such as True®, Continental, or Beverage-Air. Find commercial 4-keg beer dispensers for your restaurant bar, half keg dispensers and mini beer dispensers for your party at home. Make pouring out beer fun and easy with various capacity beer dispensers!
For additional Large Equipment information or specifications, please contact our Customer Service department at 1-877-425-8906.
More