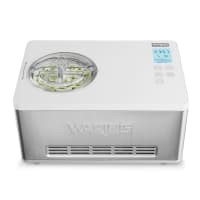 Tabletop Ice Cream Machines and More Commercial Ice Cream Machines! Dish out creamy, decadent homemade ice cream with professional ice cream machines from J.B. Prince. Impress your guests and customers with a dish full of yummy ice cream
scooped
out of your very own ice cream machine!
For additional Small Equipment information or specifications, please contact our Customer Service department at 1-877-425-8906.
More
Ice Cream Machines
Shop for ice cream machines online at Wasserstrom.com. These machines make ice cream, soft serve ice cream, and even frozen yogurt. Choose your J.B. Prince ice cream machine at Wasserstrom.com. Wasserstrom.com also has a great selection of dishers and dippers for these ice cream machines.
Order Ice Cream Machines
Order an ice cream machine at Wasserstrom.com. Ordering online at Wasserstrom.com is easy and you can have an ice cream machine delivered to your door. For exact shipping estimates, questions about our collection of countertop equipment, or to place your restaurant equipment order by phone, please contact Customer Service.