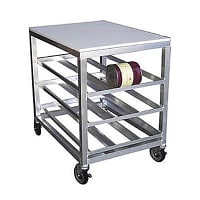 Racks for Commercial Kitchens Bun racks,
dunnage racks
, utensil racks and more at Wasserstrom. Find the rack your kitchen or storage area need. Shop boat racks, oven racks, pot racks and
utility racks
.
More
Racks
Store your products and food safely every time with the right rack. Get bun racks for the bakery, oven racks, pan racks and more racks. Store cans in your pizza shop with handy can racks. Also find pot racks, utensil racks and more racks for your kitchen space.
Order Your Baking Pans and Rack Covers
Order your dunnage racks and boat racks today, and have them arrive within a few days. Ordering online is easy and fast, with more items shipped out in one to two business days. If you have any questions about our racks, or would prefer to place your restaurant supplies order by phone, please contact Customer Service.