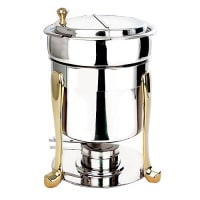 Buffet Supplies
Shop for buffet carts, beverage tubs, buffet platters, serving bowls, buffet utensils and holloware from trusted manufacturers like Vollrath, Oneida and Bon Chef.
More
Buffet Supplies and Soup Tureens
If your serving a buffet for hundreds you'll need the right supplies for the job. Get the buffet utensils and holloware you'll need to serve a crowd of hungry patrons. Find carving stations and heat lamps, buffet stations and more buffet supplies to create your one-of-a-kind buffet.
Order Your Beverage Servers and Catering Supplies
Order your buffet trays, salad bar supplies and beverage display tubs today, and they'll be delivered within a few days. Ordering online is fast and easy, with more items shipped out in one to two business days. If you have any questions about our buffet supplies, or would prefer to place your restaurant supplies order by phone, please contact Customer Service.