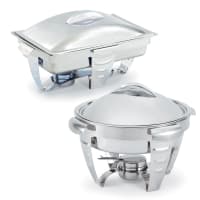 Chafers, Chafing Dishes, and Chafer Accessories
Whether you are looking to expand your menu offerings to catered events or already operate a foodservice catering business, you know that chafers are at the top of your equipment list. Chafers and chafing dishes come in multiple sizes and are the best way to serve your cooked food at "fresh from the oven" temperatures.
Full sized chafers allow you to serve a larger amount of servings of a specific dish. Full sized chafers generally hold between 8 to 9 quarts of food. 2/3 sized chafers hold about 5 or 6 quarts of food. And Half sized chafing dishes hold between 4 to 5 quarts of food. At Wasserstrom, we carry a wide selection so you can mix and match chafing dishes to meet your catering or mobile foodservice needs.