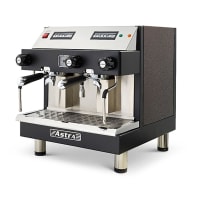 Espresso & Cappuccino Machines
As every restaurant owner knows, coffee beverages make customers happy while resulting in a consistent lift in revenue. Our selection of espresso makers, pourover machines, and steamers are both aesthetically pleasing and masterfully engineered.
For commercial foodservice operations such as cafes and restaurants, we carry a range of espresso machines that vary in their automation and usage features including:
Fully automatic machines with touch-of-a-button drink preparation;
Automatic machines that provide consistency and options;
Traditional machines that give baristas complete control over their craft and;
Espresso machines with built-in refrigeration.
For a perfect cup every time, see what the buzz is about with our top-of-the-line selection of commercial espresso makers, pourover machines, dedicated cappuccino makers, and steamers.