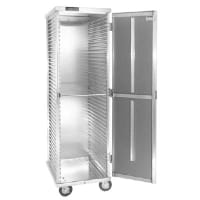 Catering Carts Catering carts,
buffet storage containers
, transport carts, pizza delivery bags and more. At Wasserstrom, get all of your food transportation supplies like dollies, banquet carts, and aluminum transport cabinets. Store prepared foods and meals with our collection of stainless steel food pans, plastic food boxes, and more storage supplies. Make transporting food less stressful and more efficient with Wasserstrom's collection of transporting supplies for all of your catering and buffet needs.
More
Catering Carts
Wasserstrom.com has a great selection of catering carts to use at your next catered event. Choose from Lakeside® Geneva carts, Queen Mary banquet carts, stainless steel carts, and more catering carts at Wasserstrom.com.
Order Catering Carts Today
Order your catering carts at Wasserstrom.com and have them delivered right to your door. Ordering online at Wasserstrom.com is easy and fast, with more items shipped out in one to two business days. If you have any questions about our catering carts, or would prefer to place your catering supplies order by phone, please contact the helpful representatives in Customer Service.