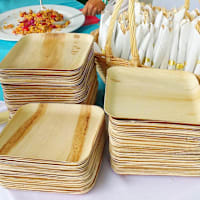 Eco-Friendly Disposables Everyone wants to do their part to help with the environment and purchasing eco-friendly, sustainable or compostable food service disposables are an easy way to make a difference. Look at disposable options like palm leaf plates, paper straws, compostable dinnerware that will break down faster than foam disposable containers.
More
Recyclable Disposables
If you want to do your part to save the environment, then shop Wasserstrom for a great selection of recyclable, biodegradable, and compostable foodservice plates, bowls, utensils, and more. While you are here, don't forget to check out our great selection of food safety items to keep your kitchen safe and sanitized.
Order Your Disposable Gloves and Napkins
Ordering online is fast and easy, with more items shipped out in one to two business days. If you have any questions about our selection of disposable gloves or disposable napkins, or would prefer to place your restaurant supplies order by phone, please contact Customer Service.