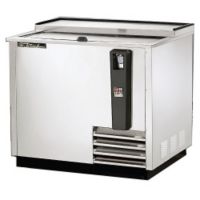 Stainless Steel Bottle Coolers, Low Temp Bottle Coolers, and More Bottle Coolers!
Sliding glass door bottle coolers, horizontal bottle coolers, and deep well bottle coolers are just a few of the options to choose from at Wasserstrom. Refrigerated bottle coolers are perfect for displaying at the checkout isle, and bottle coolers with the Energy Star® label are energy efficient and can reduce your electric bill! Select from brands like True, Perlick or Continental. Increase your store sales by displaying cold beverages conveniently with bottle coolers!
For additional Large Equipment information or specifications, please contact our Customer Service department at 1-877-425-8906.
More
Bottle Coolers
Shop bottle coolers at Wasserstrom.com online today. Find bottle coolers from top manufacturers like Perlick®, True® and Beverage Air® for your restaurant or bar today.
Order Your Sliding Door Bottle Coolers and Flat Top Bottle Coolers
Order your sliding door bottle cooler or flat top bottle cooler today, and have your bottle coolers delivered to your door. Ordering online is easy and fast with most in-stock items shipping out in 2-3 business days. For exact shipping estimates, questions about our collection of bottle coolers, or to place your restaurant supplies order by phone, please contact Customer Service.