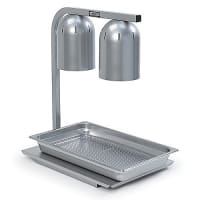 Heat Lamps Wasserstrom.com has a great selection of Hatco heat lamps, Bon Chef heat lamps, and more. Always make sure food is hot and ready to eat.
For additional Small Equipment information or specifications, please contact our Customer Service department at 1-877-425-8906.
More
Heat Lamps
Buy Heat Lamps today at Wasserstrom.com. Shop for an infrared heat lamp, a portable heat lamp, and more heat lamps today at Wasserstrom.com. Also shop here for foodwarmers and hot plates.
Purchase Heat Lamps Today
Order the Heat Lamp that fits the requirements of your busy kitchen today at Wasserstrom.com. Find a great selection of heat lamps including great brands like CresCor® heat lamps and Hatco heat lamps. Also shop Wasserstrom.com for a great selection of soup kettles and food warmers. If you have any questions about our collection of Heat Lamps, or would prefer to place your equipment order by phone, please contact Customer Service.