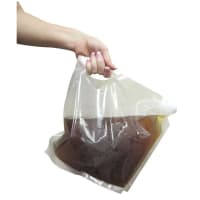 Disposable & Cardboard Beverage Carriers
Delivering hot entrees and appetizers door to door wouldn't be complete without your customer's favorite hot and cold drinks. Our disposable and cardboard drink carriers are the best way to safely transport ice tea and other popular drinks.
The world runs on coffee, and now you can deliver it hot and fresh in our coffee carriers. Transporting single cups of coffee in our cardboard drink and coffee carriers is convenient and helps prevent spills. Don't forget to pick up some disposable cup sleeves to make it easy to handling hot beverages!
Whether you want to deliver just a couple drinks or a box of coffee, Wasserstrom sources everything you need for your take-out and delivery service.
Product List
Item #: 6074345

Model #: K9003

By: Pak-Sher

Sold As: Case of 50

Item #: 980105

Model #: 5000356

By: Darling Food Service

Sold As: Case of 300

Item #: 6087191

Model #: 2788

By: Bunzl

Sold As: Case of 250