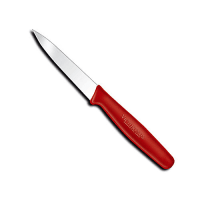 Commercial Knives, Cutlery, and Cutting Boards for Restaurants
Shop Wasserstrom.com to find the right knife, cutting board for your commercial kitchen. Wasserstrom has an extensive selection chef's knives, slicing knives, paring knives, cleavers, santoku knives and slicing knives from trusted Brands like Dexter Russell, Mercer, Mundial, JA Zwilling Henckels and Victorinox. Also, don't forget to shop our great selection of knife racks, cutting gloves and knife sharpeners.
More
Cutting Boards, Knife Sharpeners, and Knife Racks
When preparing food in your kitchen, having the right knife is important. Get the right knife from brands like Dexter Russell, Tramontina, or Wusthof at Wasserstrom.com. Wasserstrom also has a great selection of knife sharpeners to keep your knives sharp.
Japanese Style Knives and Scissors
Shop Wasserstrom.com for any style knife you could need. Wassertrom has Japanese style knives, butcher knives, plus the cutting gloves you will need for to protect your hands. Ordering online is fast and easy, with more items shipped out in one to two business days. If you have any questions about our selection of kitchen supplies or would prefer to place your restaurant supplies order by phone, please contact Customer Service.