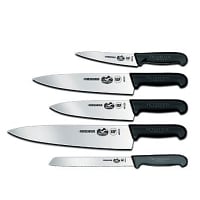 Cutlery
Precision knives are like an extension of a skilled chef's hands. We bring you the sharpest blades from the world's premier smiths, including JA Henckel, Dexter Russell, Wusthof, F. Dick, and Mundial.
More
Cutlery
One of a chef's most sacred tools is his knife. Whether it's a Dexter Russell filet knife or Wusthof butcher knife, Wasserstrom's collection of culinary knives and garnishing tools can outfit any chef and foodservice team with functional knives that they will be comfortable and safe using in a foodservice environment.
Order Your Cutting Boards and Mixers
Order your culinary cutlery today, and have them arrive within a few days. Ordering online is easy and fast, with more items shipped out in one to two business days. If you have any questions about our cutlery, or would prefer to place your restaurant supplies order by phone, please contact Customer Service.