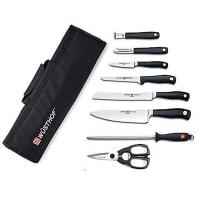 Wusthof
With a history that dates back to 1814, Wusthof brings you premium high carbon steel knives from Solingen, the "Cutlery Capital" of Germany. Shop here for the Wusthof Pro Series Line and the Wusthof Classic Line.
More
Wusthof Cutlery
Shop Wusthof cutlery online at Wasserstrom. Shop our great selection of Wusthof bread knives, Wusthof paring knives, and more Wusthof cutlery. Choose everything from slicing knives to boning knives to handle all the cutting and slicing jobs in your kitchen.
Order Wusthof Cutlery Today
Order
Wusthof cutlery
and more
cutlery
today and have your Wusthof cutlery delivered right to your door. Ordering online is fast and easy, with more items shipped out in one to two business days. If you have any questions about our collection of Wusthof cutlery, or would prefer to place your
restaurant supplies
order by phone, please contact
Customer Service.