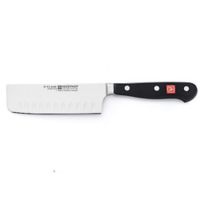 Classic One of the best selling collection for generations, Wusthof's Traditional Forged Classic cutlery line features triple riveted handles. This pattern offers the widest range of cutlery options that will satisfy every home cook or professional chef.
More
Wusthof Classic Cutlery
Shop for Wusthof Classic cutlery online at Wasserstrom. Shop our great selection of Wusthof Gourmet knifes or Wusthof ProSeries knifes, and many other Wusthof knives and knife sharpeners. At Wasserstrom.com you will find a Wusthof knife perfect for all the slicing, peeling, and any other kitchen task.
Order Wusthof Classic Cutlery Today
Shop Wasserstrom for a great selection of Wusthof Classic or Wusthof Ikon. Wasserstrom.com has wide selection of kitchen cutlery you can order online today and have your Wusthof cutlery delivered right to your door. Ordering online is fast and easy, with more items shipped out in one to two business days. If you have any questions about our collection of Wusthof cutlery, or would prefer to place your restaurant supplies order by phone, please contact Customer Service.