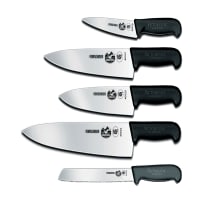 Victorinox Cutlery
Shop for carving forks, meat cleavers, boning knives, bread knives, chef's knives, cimeter knives, paring knives, slicing knives and many other cutlery items from Victorinox. They manufacturer an extensive line of professional cutlery that is made of durable materials and incorporates ergonomic designs.
More
Victorinox Cutlery
Shop Victorinox cutlery online at Wasserstrom. Shop our great selection of Victorinox bread knives, Victorinox paring knives, and more Victorinox cutlery. Choose everything from utility knives to cook knives to cut and slice all the different items in your kitchen.
Order Victorinox Cutlery Today
Order
Victorinox cutlery
and more
cutlery
today and have your Victorinox cutlery delivered right to your door. Ordering online is fast and easy, with more items shipped out in one to two business days. If you have any questions about our collection of Victorinox cutlery, or would prefer to place your
restaurant supplies
order by phone, please contact
Customer Service.