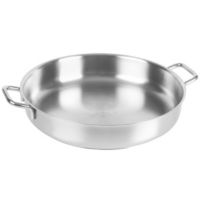 Paella Pans
Perfect your Spanish cuisine and more with our assortment of high-quality paella pans. Hailing from the Valencia region, traditional paella pans serve up the national dish of Spain and a host of other meals, from delicacies to comfort food.
Our assortment of these beloved pans come in carbon steel construction, which is the preferred metal of many paella enthusiasts, as well as stainless steel, and aluminum. Paella pans are larger than your average frying pan and prepare rice perfectly because of their low, wide shape.
Commercial kitchens benefit from paella pans because they are versatile well past their namesake. Paella pans have a smooth, flat surface and can double as griddles, cooking up pancakes, eggs, and other breakfast favorites. In a pinch, they can be used in place of a wok, a roasting pan, or skillet.
Save 16% On Cookware*

Checkout Code: COOKWARE16 // *Excludes Lodge