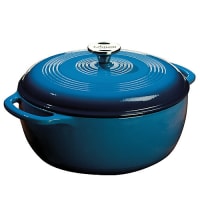 Dutch Ovens
Commercial-grade Dutch ovens are not only beautiful to look at, but a versatile tool for any restaurant when preparing casseroles, fried chicken, braised short ribs, simmering chili, baked bread, and other slow-cooked recipes. Dutch ovens can move from stove top to oven and are experts at retaining heat.
Enameled cast iron Dutch ovens have smooth, nonreactive, porcelain surfaces for additional versatility: Aside from their already endless list of applications, enameled cast iron Dutch ovens are also used to safely marinate and refrigerate food. Likewise, their ability to hold heat and pan shape make them excellent vessels for deep frying.
Dutch ovens made from enameled cast iron are also easy to clean and can even be used in a dishwasher, saving time on cleanup.
We offer the finest enameled cast iron Dutch ovens in a variety of lush colors and sizes.