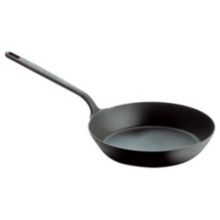 Carbon Steel Pans and Cookware
It's easy to understand why chefs love our selection of carbon steel cookware: This metal is lighter than cast iron, heats and cools down quickly while distributing heat evenly, and is extremely durable.
Carbon steel cookware must be seasoned to achieve its naturally non-stick surface. However, to save you time we offer a variety of pre-seasoned carbon steel cookware.
Carbon steel's smooth surface is ideal for sautéing vegetables, frying up eggs, preparing fish, searing steak, and much more. Its ability to handle high heat and easy-to-clean surface makes this a versatile tool any chef will enjoy.
Additionally, carbon steel cookware works on stove tops, in ovens, under broilers, and even on grills or open flames.
Stock Up, Save MoreSpend $200, Save $30 → Spend $250, Save $50 → Spend $300, Save $75
Use Code: SAVEMORE // Excludes Wusthof & Lodge