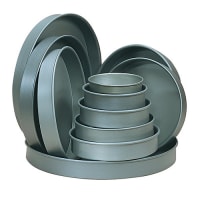 Baking Pans
Our selection of commercial baking pans and accessories has everything your bakery or restaurant needs to thrive.
We've stocked our shelves with only the best such as flexipans by Demarle, a staple in French artisanal baking and pastries, and baking essentials from Nordic Ware, family-owned and made in the USA.
Our cake pans encompass every shape a bakery would ever need including molds for brownie bites, star-shapes, cake pops, and holiday themes!
Discover our veritable wonderland of high-quality commercial bread pans, cake pans, Bundt pans, flexipans, muffin pans, hamburger and hotdog bun pans, pie pans, springform pans and more!