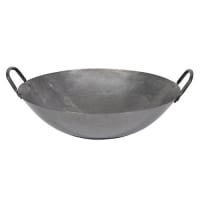 Woks
Synonymous with Chinese cuisine, woks have been inspiring chefs for centuries. Woks are a beautiful way to create sizzling stir fries, tangy pad thai, and hundreds of other dishes at an incredible price point.
Explore our traditional hand-hammered cold-forged steel woks, carbon steel woks, and flat-bottom woks with handles that are designed to work more efficiently on restaurant ranges. In addition to traditional woks, we now offer non-stick selections, scratch-resistant woks, and woks specifically made for induction ranges.
Beyond stir fry, chefs use woks to steam, deep fry, braise, smoke, and simmer.