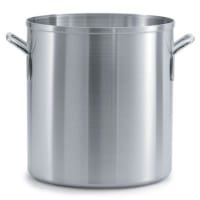 Stock Pots & Sauce Pots
Delve into our array of stock and sauce pots for your large-batch, high-volume commercial foodservice needs. Our high-quality stainless-steel and energy-efficient aluminum stock pots prepare perfect batches of stock, soup, sauce, broth, chili, vegetables, pasta, and more: And they are big enough to feed an army.
The stock pots we offer are selected for their durable construction, high-performance materials, and, being a large-capacity vessel, the ability to cook ingredients evenly.
They also come in a range of sizes, up to a 120-quart capacity. Choose from tried and true commercial cookware manufacturers such as Vollrath, Browne Foodservice, Mafter Bourgeat and more.
Don't forget to pick up domed or flat lids, as well as boiler and fryer basket accessories.
Product List
Item #: 175164

Model #: 3203

By: Vollrath

Sold As: Each

Item #: 6091584

Model #: 47725

By: Vollrath

Sold As: Each

Item #: 100743

Model #: 68413

By: Vollrath

Sold As: Each

Item #: 100355

Model #: 47732

By: Vollrath

Sold As: Each

Item #: 100744

Model #: 68414

By: Vollrath

Sold As: Each

Item #: 134725

Model #: 47733

By: Vollrath

Sold As: Each

Item #: 100745

Model #: 68420

By: Vollrath

Sold As: Each

Item #: 175153

Model #: 3206

By: Vollrath

Sold As: Each

Item #: 6097437

Model #: 5000639

By: Darling Food Service

Sold As: Each

Item #: 100746

Model #: 68426

By: Vollrath

Sold As: Each

Item #: 100748

Model #: 68444

By: Vollrath

Sold As: Each

Item #: 175081

Model #: 3212

By: Vollrath

Sold As: Each

Item #: 175151

Model #: 3202

By: Vollrath

Sold As: Each