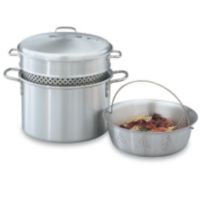 Braziers and Steamers Let time and steam work for your with these aluminum and stainless steel brazier pans, steamer baskets, and pasta cookers, featuring Vollrath products and Centurion® by Lincoln. Buy your pans, steamer baskets and pasta baskets from Wasserstrom Restaurant Supplies.
More
Braziers and Steamers
Buy brazing pans and steaming baskets at Wasserstrom. Cook pasta with convenient pasta baskets. Steam vegetables with our collection of steamer baskets or cook your favorite sauces in one of our heavy-duty braziers.
Order Aluminum Braziers and Steaming Baskets
Order stainless steel braziers and aluminum braziers today and have your items delivered to your door within a few days. Ordering online is fast and easy, with more items shipped out in one to two business days. If you have any questions about our collection of braziers and steaming baskets, or would prefer to place your restaurant supplies order by phone, please contact Customer Service.