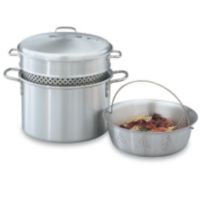 Braziers and Steamers
Brazier pans, also known as brasiers or rondeau pans, are a versatile tool for any commercial kitchen that braises, simmers, roasts and sears. Braziers are also excellent when used in conjunction with steamers, to create seafood dishes and pasta triumphs.
We have the steamers you need, and for a variety of uses. Our combination boiler/fryer sets are ideal for cooking seafood or deep-frying turkey; others work well for vegetables and pasta.
Browse our selection of stainless-steel and aluminum commercial braziers and steamers by Vollrath, Bon Chef and Carlisle, as well as vibrant and colorful induction-ready braziers by G.E.T. Enterprises.