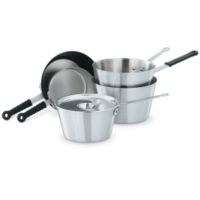 Stainless Steel Pots, Pans, and Fry Pans
Our high-quality stainless-steel cookware offers endless versatility for your commercial kitchen. Stainless steel heats fast and precisely at all temperatures, high or low.
This durable metal excels at searing, simmering, roasting, stir frying, caramelizing, uniform browning, and creating sauces. Don't forget to preheat!
Stainless steel cookware is the best metal to use with acidic food because it is nonreactive. Using stainless steel cookware preserves the fresh taste and color of highly acidic foods such as marinara sauce and lemon juice, as opposed to unlined copper, non-anodized aluminum and cast iron.
If stainless steel cookware is cleaned and maintained properly, it will last forever. For instance, never wash a hot pan: Make sure stainless-steel cookware has cooled prior to washing. Additionally, drying stainless steel cookware immediately after washing will prevent unsightly spotting and maintain a beautiful shine.