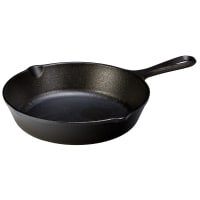 Enameled Cast Iron Skillets, Cast Iron French Ovens, and More Cast Iron Cookware
Used since ancient times, cast iron cookware is slower to heat up than other cookware metals. However, patience is rewarded because it has the best heat retention of all the cookware metals.
Cast iron can handle very high temperatures and works beautifully on the stove top, in the oven, on a grill, or on an open flame. This metal is ideal for deep frying, roasting, baking, and an array of other techniques.
Cast iron cookware's natural, uncoated surface is free of toxic chemicals and naturally non-stick. However, to achieve its nonstick surface, cast iron must be seasoned. Luckily, we offer a vast selection of pre-seasoned commercial-grade cast iron cookware to save you time.
We do recommend re-seasoning cast iron cookware from time to time, which is a simple process of baking oil into the cooking surface at 400 to 500 degrees. Re-seasoning will ensure cast iron cookware has a long, profitable lifespan in your commercial kitchen.