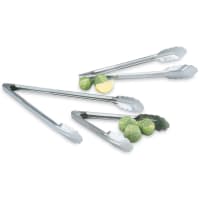 Kitchen Tongs
Replenish your supply of commercial tongs and make food service preparation and serving so much easier. Our assortment of tongs makes a wide range of applications and uses safe and simple.
For your convenience, we carry heavy-duty tongs that are strong enough to rip apart frozen food; giant tweezer tongs for ultimate precision; tender-touch pastry tongs; tongs perfect for grilling and frying; serving tongs for buffets and salad bars; and tongs designed for specific food items such as spaghetti, ice, sugar, meat, and bread.
Choose from a diverse selection of materials including bamboo, 18/0 and 18/10 stainless steel, silicone, and polycarbonate.
We take details seriously and therefore offer tongs for specific needs such as tongs with a locking mechanism which reduces their size for easy storage; as well as purple-handled color-coded tongs for allergen safety.
Save 10% When You Buy 3+ Kitchen Utensils – Mix & Match!