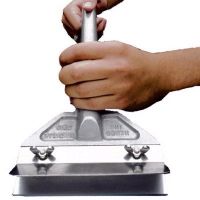 Grill Brushes and Scrapers
For all your grill cleaning equipment, come to Wasserstrom.com. Order your scrapers, grill brushes, pizza oven brush and cleaning brick. You can get your replacement scraper blades, griddle screens and polishing pads for your griddle and oven needs. Select your Scraper and Grill Brushes from great brands like Carlisle, 3M, or Prince Castle.
More
Grill Brushes and Scrapers
Shop grill brushes and scrapers online today at Wasserstrom.com. Get wire grill brushes, heavy duty grill scrapers, replacement griddle screens and more grill brushes and scrapers. Keep your grills and griddles clean and free of crust with our collection of griddle scrapers, grill brushes and replacement pads.
Order Griddle Brushes and Scrapers
Order griddle pad holders and pizza oven brushes today and have your items delivered to your door within a few days. Ordering online is fast and easy, with more items shipped out in one to two business days. If you have any questions about our collection of grill brushes and scrapers, or would prefer to place your restaurant supplies order by phone, please contact Customer Service.
Product List
Item #: 603807

Model #: 4029300

By: Carlisle

Sold As: Each

Item #: 112500

Model #: 161

By: Redi Grill

Sold As: Each

Item #: 100294

Model #: 4029400

By: Carlisle

Sold As: Each

Item #: 112300

Model #: 1101

By: Vollrath

Sold As: Each

Item #: 112513

Model #: 55825

By: Nemco

Sold As: Each

Item #: 6056561

Model #: 55607-6

By: Nemco

Sold As: Pack of 6

Item #: 603203

Model #: 4029000

By: Carlisle

Sold As: Each