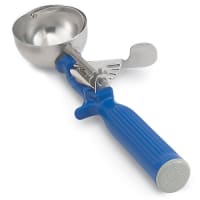 Dishers & Dippers
Scoop it up with our grand selection of dishers and dippers featuring every color in the rainbow.
We carry corrosion-resistant, stainless-steel dippers with graduation marks on the inside and out. If you are serving punch, soup, curry, gravy, mac n' cheese, and more, take advantage of our quality, NSF-certified dippers.
Our dishers have easy-to-identify, color-coded handles in vibrant shades that are pleasing to the eye. We have dishers for soft and hard foods, as well as cold and hot food.
They are available in many sizes for accurate portion control and to make sure dishes are consistent and customers receive the same amount of food no matter who is preparing them.
Depending on your preference, our handles range from easy grip to thumb action to squeeze, and everything in between.
Dish out some ice cream, cookie dough, mashed potatoes, rice, steamed vegetables, and much more with our colorful NSF-approved, stainless-steel dishers.
Save 10% When You Buy 3+ Kitchen Utensils – Mix & Match!