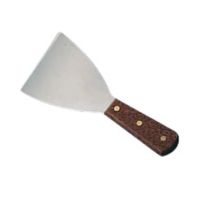 Scrapers
Choose from a wide assortment of multifunctional scrapers at excellent price points for your commercial kitchen.
High heat scrapers like those from Rubbermaid Commercial have silicon blades with nylon handles that are apt at cleaning the sides of hot pans without leaving a single surface scratch. They are also used for scooping and spreading ingredients smoothly.
Paddle scrapers such as Carlisle Foodservice Products' 48" Sparta Scraper are large enough to handle pots and vats at most any depth and are excellent for mixing and stirring.
Our beveled scraper from Browne Foodservice uses a carbon steel blade and ergonomically designed heat-resistant handle for excellent durability and control.
We also carry scrapers for specific uses, such as Matfer Bourgeat's Bakers Blade. This stainless-steel scraper from France is made to cut ridges into baguettes to encourage the dough to rise.
And of course, we also offer scrapers that manipulate dough and clean kitchen surfaces, scratch-free bowl scrapers, and pan/grill/griddle scrappers for those hard to remove bits left on the cooking surface.
Stock Up, Save MoreSpend $200, Save $30 → Spend $250, Save $50 → Spend $300, Save $75
Use Code: SAVEMORE // Excludes Wusthof & Lodge