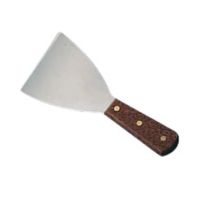 Scrapers
Pick up the right type of scraper for your kitchen! Whether it's a rubber scraper, bowl scraper or pan scraper, we've got the selection you need. We also carry grill scrapers, whips, spatulas, and tongs.
More
Scrapers
For back of the house prep or clean-up, these scrapers help you get the very last bit off the bowl or grill. Find other kitchen utensils and equipment such as whips, spatulas, and tongs and mixing bowls. Ordering online is fast and easy. If you would like additional information or specifications, please contact our Customer Service at 1-877-425-8906.
Save 10% When You Buy 3+ Kitchen Utensils – Mix & Match!