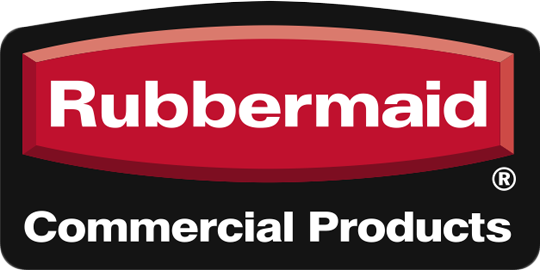 Wasserstrom has everything you need from Rubbermaid Commercial Products: Brute & Slim Jim containers, WaveBrake mopping systems, Executive Series carts, ProSave ingredient bins, and more. Shop now!
Brute Utility Containers
Commercial-Grade Construction. Proprietary design constructed with the highest quality material plus a UV inhibitor ensures long life in even the most extreme commercial environments. Guaranteed to never fade, warp, crack, or crush.
Rim with Rib-Strengthened Design. Increases strength and resists crushing.
Bag Cinches. Secure liners allowing for knot-free liner changes. Tested to 20,000 cycles.
Rounded Handles. Make lifting and moving easier, and are reinforced to resist tearing or damage from even the heaviest loads.
Seamless Construction. Helps make cleaning easier.
Venting channels. Makes removing lines up to 50% easier, improving productivity and reducing the risk of injury.
Contoured base handles. Improve grip and ergonomics, reducing strain and improving efficiency when emptying containers.
Reinforced Base. Specifically engineered to be dragged over rough surfaces, extending life and durability in even the toughest environments.
Shop All >
The WaveBrake Mopping System
Rubbermaid's revolutionary bucket with molded-in WaveBrake baffle technology disrupts wave formation, reducing splashing up to 40% for cleaner floors, more efficient moping, and safer conditions for customers and staff.
Tubular Steel Construction. The innovative ergonomic wringer handle is made from tubular steel with a contoured comfort grip.
Nonmarking Casters. Help protect floors, keeping public areas looking their best.
Foot Pedal Water Release. Foot pedal drain for convenient dumping. (Available only in 44-quart size.)
Wringers Built to Last
Preferred by professionals, the down-press wringer is tested to exceed 50,000 wringing cycles. The side-press wringer is tested to exceed 40,000 cycles. Average injection-molded wringers only last approximately 860 cycles.
Shop All >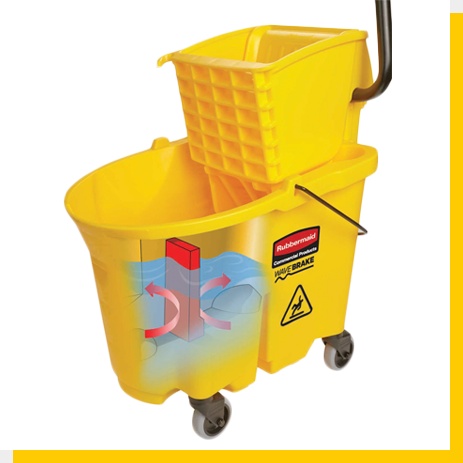 Executive Service Carts
The Executive Service Cart is an elegant and versatile solution for back- and front-of-house tasks. With 20% more top-shelf capacity, it's constructed of durable, recyclable polyethylene and it's easy to clean – keeping your business looking smart for years.
Ergonomic Rounded Handles. Improves maneuverability and comfort.
Wraparound End Panels. Conceals cart contents.
Solid Rounded Bumper. Gentle on walls and furniture.
300-lb Load Capacity. Holds 100 lbs per shelf. Accommodates two standard bus boxes on top shelf.
Attractive Styling. Ideal for front-of-house use.
Shop Now >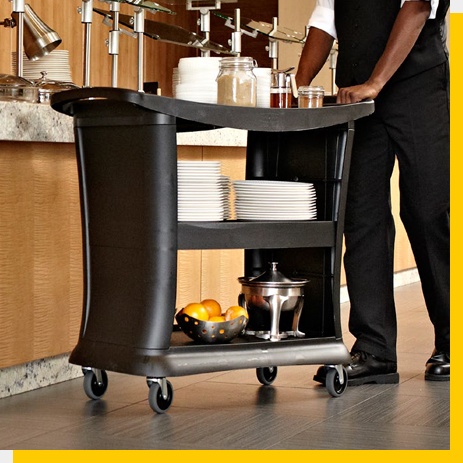 Premium Digital Portion Control Scales
Save Money on High-Cost Foods with Digital Portioning
Precise. Reads in pounds by fractional and decimal ounces and grams.
Use anywhere.Temperature-compensated load cell for use in refrigerated prep rooms.
Sealed inner chassis. Resists airborne contamination, slides out for easy cleaning.
Dishwasher-safe components. Removable platform and outer housing.
Antimicrobial outer shell. Resin models only.
50-hour rechargeable battery. Also includes AC adapter.
Optional AA battery usage. Not included.
S/S Scale >
Resin Scale >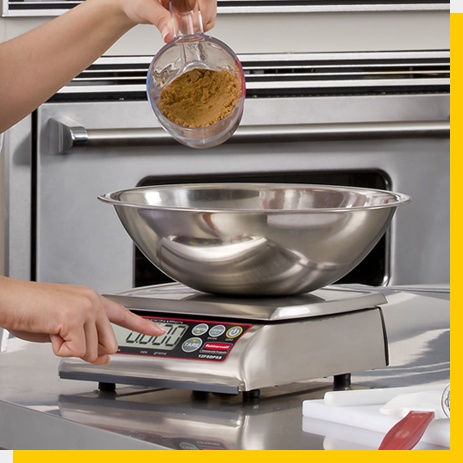 ProSave Ingredient Management System
Ingredient Bins
Improved productivity through integrated lid and scoop system.
Integrated lid and measuring scoop allows for quick one-handed access to stored ingredients
Clear window for fast ingredient identification and inventory management
Certified to NSF/ANSI/3-A and 2 Standards
Commercial dishwasher-safe
Complies with FDA Food Code 3-304.12 to increase inspection score
Shelf Ingredient Bins (additional features)
The only storage system to access ingredients when stacked.
One-handed access while stacked improves space efficiency
FIFO (First In, First Out) barrier for proper food rotation improves food quality
Shop Now >
Rubbermaid Washroom & Children's Supplies
SeBreeze Gel Fan Dispenser
Long-Lasting, Effective Odor Control
Sturdy construction with adjustable vents to regulate airflow
Refill with Fragrance Cassette (battery included)
Gel dissolves as it's used, providing a visual replacement cue
Continuous odor control for 30 days
Use in rooms up to 600 sq. ft.
Includes mounting hardware
Shop Now >