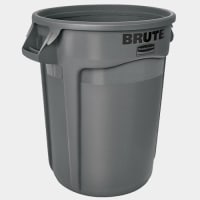 Brute Trash Containers
Brute® waste containers from Rubbermaid®, Rubbermaid Brute® 44-gallon trash containers, Brute® lids and more. At Wasserstrom, find 50 gallon Brute® roll-out trash can, gray Brute® trash containers, and more Brute® waste receptacles.
More
Brute® Trash Cans
Shop Wasserstrom for all your Brute® trash cans today. Wasserstrom.com has a great selection of Brute® trash cans from Rubbermaid&reg in all sizes and colors. Also find Brute® trash can lids too.
Order Brute Trash Cans Today
Order a Brute® trash can from Rubbermaid® today and it will be delivered right to your door. Ordering online is easy and fast, with more items shipped out in one to two business days. If you have any questions about our collection of janitorial products, or would prefer to place your restaurant supplies order by phone, please contact Customer Service.
Product List
Item #: 652801

Model #: FG263200GRAY

By: Newell Brands Distribution LLC

Sold As: Each

Item #: 652800

Model #: FG263200WHT

By: Newell Brands Distribution LLC

Sold As: Each

Item #: 652500

Model #: FG262000GRAY

By: Newell Brands Distribution LLC

Sold As: Each

Item #: 652101

Model #: FG261000GRAY

By: Newell Brands Distribution LLC

Sold As: Each

Item #: 652100

Model #: FG261000WHT

By: Newell Brands Distribution LLC

Sold As: Each

Item #: 652806

Model #: FG353600GRAY

By: Newell Brands Distribution LLC

Sold As: Each

Item #: 653201

Model #: FG264360GRAY

By: Newell Brands Distribution LLC

Sold As: Each

Item #: 107618

Model #: FG264360BLUE

By: Newell Brands Distribution LLC

Sold As: Each