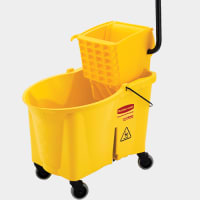 WaveBrake Mopping System
The Rubbermaid WaveBrake® Mopping System can handle any mopping job with ease, in sizes from 26 quart to the new 44 quart system. The famous patent-pending technology in every WaveBrake® bucket reduces splashing for a safer environment, cleaner floors and more efficient mopping. Don't forget to shop Wasserstrom.com for floor cleaners to use with your Wave Brake® mopping system.
More
WaveBrake
Get WaveBrake mop buckets online at Wasserstrom.com. Keep your floors clean and free of spills with our collection of WaveBrake down press mop wringers, WaveBrake Combo wringer & buckets and WaveBrake mop buckets. Get WaveBrake mop buckets in a variety of colors including
yellow WaveBrake mop systems
,
red WaveBrake mop systems
,
blue WaveBrake mop systems
and more WaveBrake colors to choose from.
Order Your Green WaveBrake Mop Systems and Brown WaveBrake Systems
Order your green WaveBrake mop systems and brown WaveBrake mop systems today, and have your WaveBrake mopping system arrive within a few days. Ordering online is easy and fast, with more items shipped out in one to two business days. If you have any questions about our collection of WaveBrake mop buckets, or would prefer to place your restaurant supplies order by phone, please contact Customer Service.