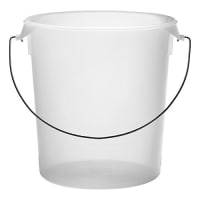 Rubbermaid Storage Containers From food prep to finish product to left overs, you have several choices with storage containers from Rubbermaid.
More
Rubbermaid Storage Containers
Select the
Rubbermaid Storage Containers
for the kitchen items you need. Choose from a variety of types and sizes. Also, shop for
Rubbermaid
at Wasserstrom.
Order Takeout Container and Carryout Bags
Select your takeout containers or the
carryout bags
today and have your products arrive within a few days. Ordering online is easy and fast, most In-Stock items ship out in 2-3 business days. For exact Shipping Estimates, please contact Customer Service. If you have any questions about our kitchen products or would prefer to place your
restaurant supplies
order by phone, please contact
Customer Service
.
Product List
Item #: 954498

Model #: 2067179

By: Newell Brands Distribution LLC

Sold As: Each

Item #: 107650

Model #: FG572000WHT

By: Newell Brands Distribution LLC

Sold As: Each

Item #: 107653

Model #: FG572124CLR

By: Newell Brands Distribution LLC

Sold As: Each

Item #: 107666

Model #: FG572200YEL

By: Newell Brands Distribution LLC

Sold As: Each

Item #: 107656

Model #: FG572400WHT

By: Newell Brands Distribution LLC

Sold As: Each

Item #: 107657

Model #: FG572424CLR

By: Newell Brands Distribution LLC

Sold As: Each

Item #: 107667

Model #: FG572500YEL

By: Newell Brands Distribution LLC

Sold As: Each

Item #: 107658

Model #: FG572600WHT

By: Newell Brands Distribution LLC

Sold As: Each

Item #: 107659

Model #: FG572624CLR

By: Newell Brands Distribution LLC

Sold As: Each

Item #: 107661

Model #: FG572724CLR

By: Newell Brands Distribution LLC

Sold As: Each

Item #: 107662

Model #: FG572800WHT

By: Newell Brands Distribution LLC

Sold As: Each

Item #: 107663

Model #: FG572824CLR

By: Newell Brands Distribution LLC

Sold As: Each