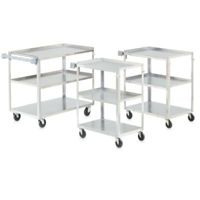 Carts
These sturdy utility carts and accessories have countless uses, and Rubbermaid's Max System rack carts move dozens of food boxes and sheet pans with ease.
More
Carts
Get the right cart for any job. Service carts, lug carts, vending carts great for outdoor foodservice, lug carts and more carts. If you're looking for a standard cart for your backroom or for stocking produce, check out our utility carts available in a variety of sizes and colors.
Order Your Racks and Shelving
Order your carts today, and have them arrive within a few days. Ordering online is easy and fast, with more items shipped out in one to two business days. If you have any questions about our carts, or would prefer to place your restaurant supplies order by phone, please contact Customer Service.