The Real Cost of An Economy Pan
Anyone who has been in the foodservice business for long has seen them: buffet lines in which would-be enticing food preparations are framed within the mangled corners and bent edges of low-quality steam table pans. But eye appeal isn't the only thing going out the window.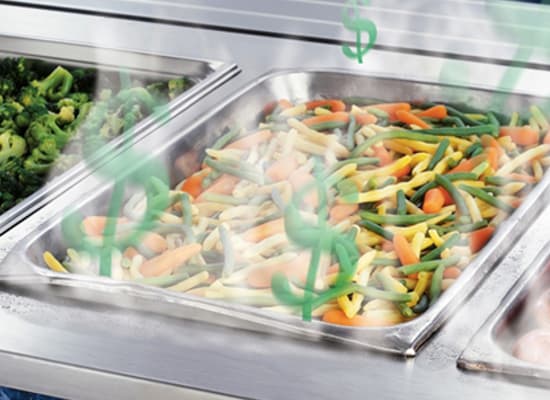 Bent Steam Table Pans
Inefficient, allowing steam and heat to escape which compromises food temperatures.
Increases energy costs from the well.
Increases HVAC costs.
Extra burden on heating elements, shortening life-span.
The money wasted on energy will offset any "savings" made on the cheap up-front purchase price of the pans.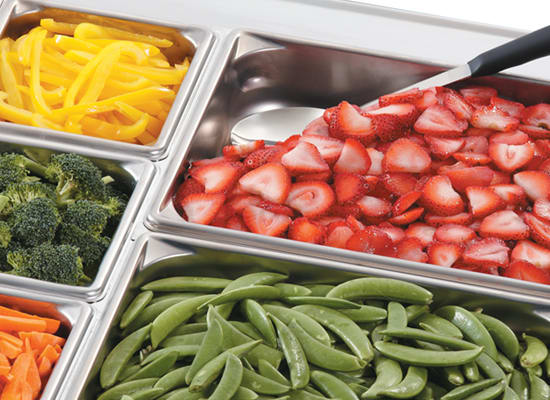 Vollrath Super Pan V
Feature an exclusive corner and edge design so they stay flat on the steam table.
Maintain maximum efficiency.
Saves you money.
Save On Energy Costs
Save an annual average of $36 on energy costs Per Full-Size Pan Opening!
kWh (kilowatt hour) usage shows that Super Pan is 38% more efficient –
Steam Table Pan
KWH Usage
Total Annual Hrs.
Total Annual KWH
Price Per KWH
Total Annual Cost
Super Pan
0.20
2488
497.60
0.1225
$60.96
Competitor w/ bent edges
0.32
2488
796.11
0.1225
$97.52
Average Annual Savings of $36.56!*
*Third Party Testing on Super Pan 3® . Total hours based on 8 hours a day / 311 days a year.
Average Commercial Retail Price of Electricity = $0.1153/kWh as of Sept. '11 per U.S. Dept. of energy website. www.ela.doe.go
Super Pan V Features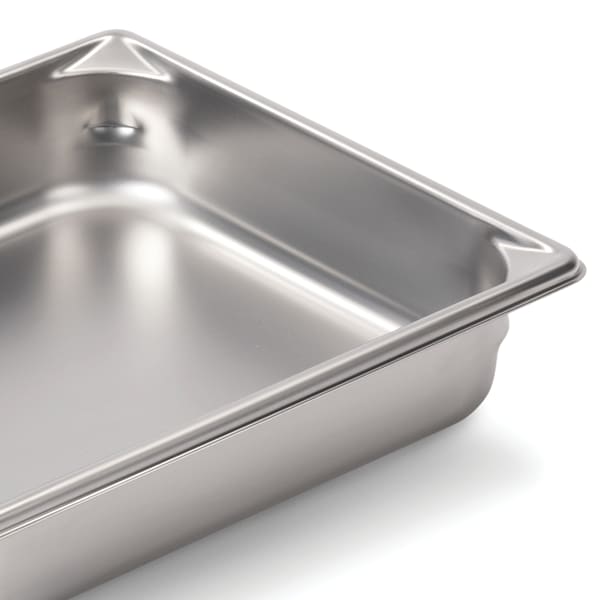 22-Gauge Steel
Resists dents and dings even in the toughest kitchen environments.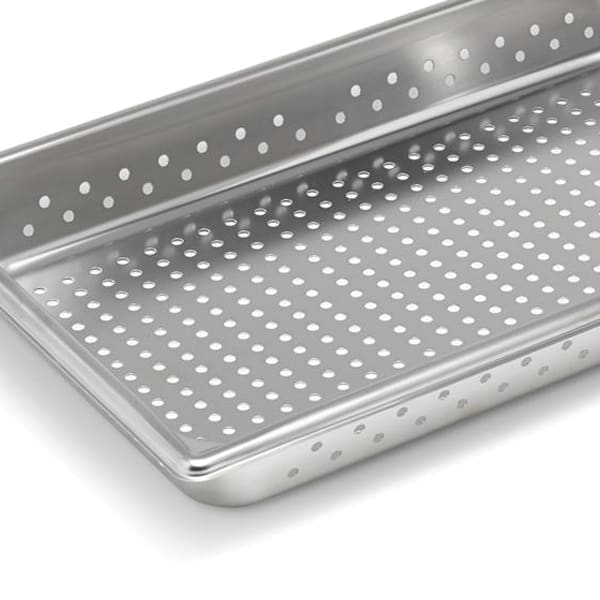 Perforated & Nonstick Pans
Perforated pans are ideal for steaming foods or draining away fats, juices, or moisture; nonstick pans are coated with premium black nonstick finish, made without PFOA.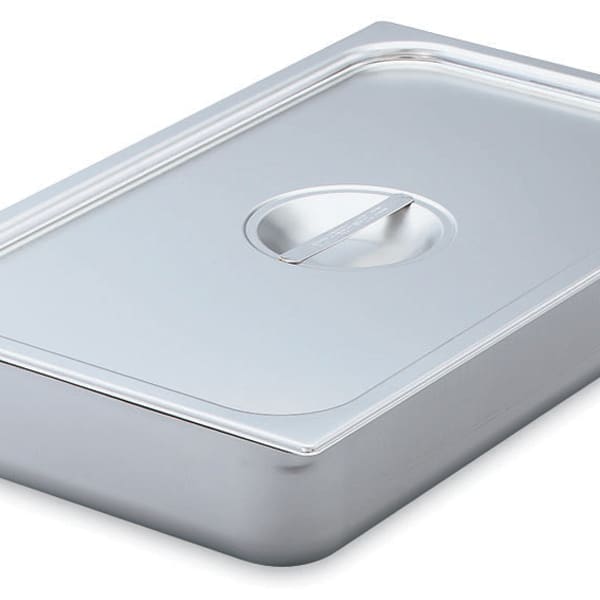 Slotted & Solid Covers
Reinforced edges provide added strength to the perimeter; solid covers are NSF® certified.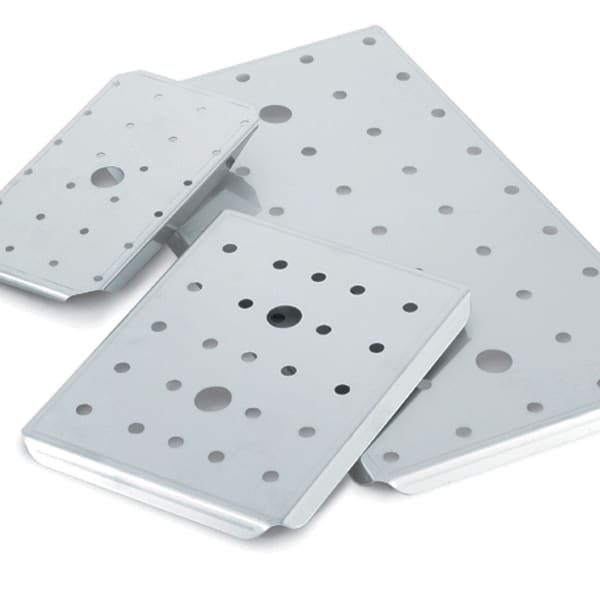 False Bottoms
Constructed out of durable 300 series stainless steel, NSF-approved false bottoms hold food above the bottom of the pan.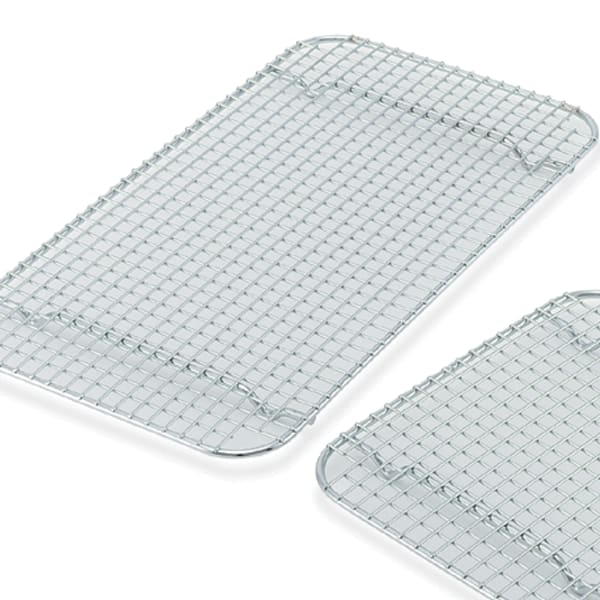 Wire Grates
The only solid stainless steel wire grate in the industry, no plating to flake off, and ample finger room in corners for easy removal.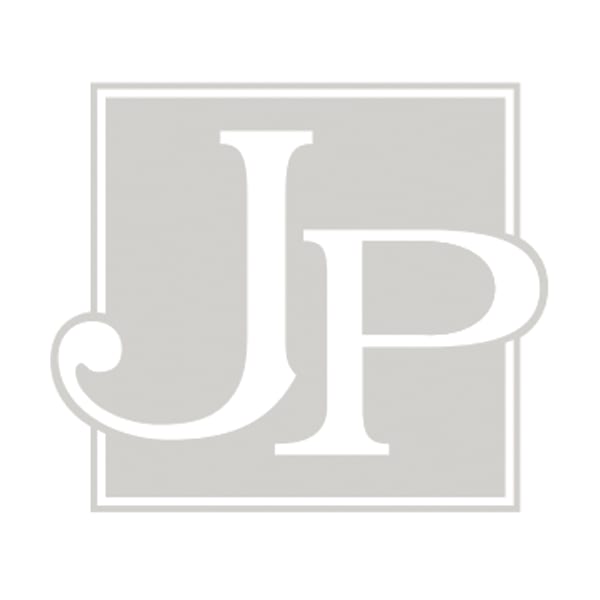 Lifetime Warranty
Super Pan V® Steam Table Pans have been added to the line of Jacob's Pride® lifetime warrantied items.
Shop Vollrath Super Pan V
Full-Size Pans & Covers

Sorted by Material Type and Depth →
Half-Size Pans & Covers

Sorted by Material Type and Depth →
Half-Long Size Pans & Covers

Sorted by Material Type and Depth →
Third-Size Pans & Covers

Sorted by Material Type and Depth →
Fourth-Size Pans & Covers

Sorted by Material Type and Depth →
Sixth-Size Pans & Covers

Sorted by Material Type and Depth →
Ninth-Size Pans & Covers

Sorted by Material Type and Depth →