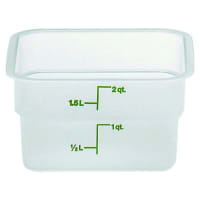 Square Food Storage Containers
Shop our wide selection of square food storage containers featuring Cambro's CamSquare line and Carlisle's StorPlus system and Squares.
Square food storage containers help to maximize storage space; a quality solution to a problem most every commercial foodservice operation, café, or restaurant faces. Better yet, color-coded lids are available for increased organizational efficiency.
Many of the square food storage containers we carry has measurements printed on the container in easy-to-read text and colors, as well as a label area to keep track of content amounts and use-by dates.
Take a closer look at our innovative square food storage containers for superior storage, food quality, and safety --- Perfect for any commercial kitchen.
Product List
Item #: 106199

Model #: 2SFSCW135

By: Cambro

Sold As: Each

Item #: 106306

Model #: 4SFSCW135

By: Cambro

Sold As: Each

Item #: 106227

Model #: 4SFSP148

By: Cambro

Sold As: Each

Item #: 106472

Model #: 4SFSPP190

By: Cambro

Sold As: Each

Item #: 165029

Model #: 6SFSCW135

By: Cambro

Sold As: Each

Item #: 686652

Model #: 6SFSPP190

By: Cambro

Sold As: Each

Item #: 106416

Model #: 8SFSCW135

By: Cambro

Sold As: Each

Item #: 165032

Model #: 8SFSP148

By: Cambro

Sold As: Each

Item #: 686651

Model #: 8SFSPP190

By: Cambro

Sold As: Each

Item #: 106457

Model #: 12SFSCW135

By: Cambro

Sold As: Each

Item #: 165033

Model #: 12SFSP148

By: Cambro

Sold As: Each

Item #: 106458

Model #: 18SFSCW135

By: Cambro

Sold As: Each

Item #: 686650

Model #: 18SFSPP190

By: Cambro

Sold As: Each

Item #: 165037

Model #: 22SFSCW135

By: Cambro

Sold As: Each

Item #: 165035

Model #: 22SFSP148

By: Cambro

Sold As: Each